Like this early draft of the purple tulip music logo, this page and related content are not yet complete. I am publishing this interim page with bits of info so as to keep an internet presence.
Purple Tulip Music is the umbrella name for all I do involving music – for all the facets of my musical life. It was officially formed when I registered my original compositions recorded on my unexpected cd with ASCAP for both publishing rights alongside myself as composer. Below is the Laura Bruno Lilly 'short bio' followed by a Laura & Thereza ensemble photo, both from my EPK – also a work in progress.
---
Laura is a well-established working musician who has remained deeply involved in the multiple layers of a musical career for more than 40 years. She has performed in widely diverse settings as soloist as well as in ensemble throughout the Rocky Mountain West, Southwest and Midwest.
Her most recent project, Swimming with Swans: the music is a self-contained yet complimentary slice of a larger multidisciplinary project comprised of literary and musical material created while living on the road between homes from 6/2009 – 6/2012.
She was awarded a Puffin Grant in 2016 to complete a portion of this project and anticipates a late 2020 release of her EP, Swimming with Swans: the music – Goat Suite (Saga).
Laura holds a BA in Math & Biology from the University of Colorado, Boulder and later studied under the internationally renowned Maestro Ricardo Iznaola while attending the Lamont School of Music at the University of Denver for classical guitar performance.
Laura's primary instruments are classical guitar and 12-string acoustic guitar, though she dabbles in the ukulele, tenor resonator guitar and the hammered dulcimer she and her husband made together.
"Laura's solo was just beautiful! Such a warm tone."

Concertmaster, The Denver Mandolin Orchestra
---
"Laura's performance was truly enlightening. The interplay of the computer generated music with her hands-on instrumental demonstrations highlighted the depth and complexity behind composing and performing music."

Bill Remmes, goodwill Cultural Center Events Director
---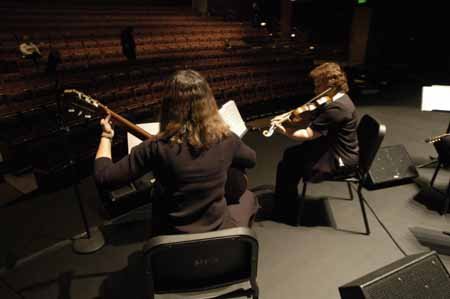 ---