A little over two weeks ago, our neighbor across the street tested positive for you-know-what.
Most are renters on this block* – us in tiny houses, others in an apartment complex, one door down from both of our houses. There is much coming and going noted as there are no garages to hide the ins and outs of any vehicle activity.
Or lack thereof.
Hubby's the one who realized these neighbors, who both work and have a family of two young children, had become strangely silent. Their two vehicles hadn't twitched a tire for quite awhile.
We quickly conferred and decided a neighborly check-in was more than appropriate.
Kireem is a special education teacher – close contact with students is just part of the very nature of his job – hence the inevitable occurred. He was thus in quarantine with the rest of the household placed in self-isolation.
Speaking through our masks, a decent distance from their doorway, we offered our services as neighbors – asking Michele if we could do errands for them but especially offering our specialty of making meals. When asked if she wanted a meal that evening or the next, Michele piped up and said, "Yes, please, tonight!"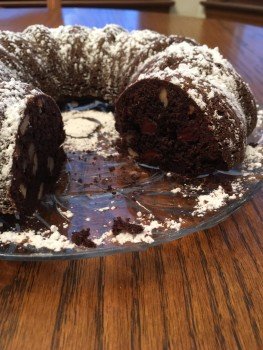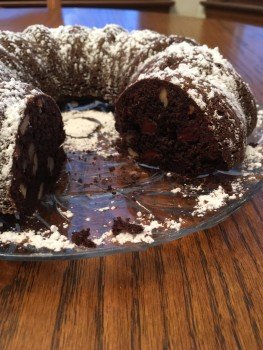 Aside from the seriousness of the reasons why I got to make a meal for them, it felt good to be 'hands on' helping out others in these isolating times. This is what I do best in such circumstances.
That night's quickly thrown together dinner menu?
My basic Rigatoni with Spicy-Sweet Meat Sauce**, my normal 'house salad' and a batch of my Loaded Brownies (minus one ingredient).
Next week when we delivered another meal, 4 year old Aminah was by her mom's side. What a delight to see Aminah's excitement over what was for dinner that evening!
That night's menu?
Our family's version of Cassoulet** (Cassoulet Italiene) with a loaf of Ma's Hardcrust Bread, a Mandarin Orange salad, and plenty of freshly grated cheeses, Italian peppers, a stick of butter and other condiments to make it extra special. Oh and a huge loaf of my middle daughter's Choco-nut Banana Bread for either dessert, breakfast the next morning or both.
And this story has a happy ending: as of a few days ago, I'm relieved to report that Kireem and family are out and about – completely COVID- free.
---
Give thanks to the Lord, for he is good; his love endures forever.

Psalm 118:1
---
*Our block is the dividing line between renters and homeowners – on the fringe of the 'true' neighborhood.
** Every family has their own versions of these basic, hearty dishes – cooked with (he)art and by (he)art!