Soon after the first two weeks of my convalescence I set up what my sorella-amica Lisa called a 'sewing sanctuary' – a working layout that is user friendly for one such as I with 'Specialty Feet'. I scrunched down the ironing board, placed it in between my desk and sewing machine and scooter around from station to station on my desk chair. Using the desk as my cutting table area, everything is amazingly manageable – at least in context of smaller projects. While I can (and do with blessings from the Doc) clomp happily around from place to place while in the boot, merely standing on my foot for no good reason is a no-no.
That same aforementioned sorella-amica challenged me to dig out the 2018 Row-by-Row quilt block kit we each purchased while visiting the Rocky Mountain Quilt Museum last summer. Well, she didn't out and out challenge me, but she texted me a photo of her completed block a few days before my surgery saying it was easy-peasy…except that the tiny flying geese border strips were a bit of a pain.
Who could resist that passive challenge? Not me.
Well, I stalled out at the sewing of the second half of those tiny flying geese blocks…ick, Too tedious and yes, tiny.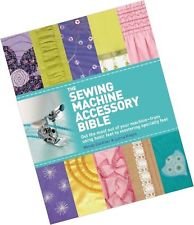 No matter, those circumstances pushed me to ferret out an excellent book I bought recently on specialty feet for the sewing machine and how to use them in various contexts.
(I bet you thought this post was only about my literal foot situation…HA! Fooled you.)
The Sewing Machine Accessory Bible by Wendy Gardiner & Lorna Knight
is packed with information and advice on types of needles to use, size of thread, fabric idiosyncrasies and creative exploration of the assorted 'Specialty Feet'.
This hands-on application on my Bernina is something I've dabbled in from time to time but never really got into as it took time away from my regular piecing and quilting projects. Now that I'm
stuck at home
*
flittering between seated diversions
**
, I figured, why not go through this
'get the most out of your machine – from using basic feet to mastering specialty feet'
book now?
I can't help but end this post with a slice of perspective…I will get out of
the boot
, I will resume my vigorous hiking in the mountains when we get back to where there are such places to hike, I will be able to wear sandals with my woman's feet showing (even though I still maintain feet are pretty ugly under all circumstances!)…but for the many Wounded Warriors among us, their 'Specialty Feet' are permanent. Yes, enabling them more normal physical activities, but still composed of foreign materials and requiring new ways of thinking in their everyday usage.
"The Lord God is my strength, and He has made my feet like hinds' feet, and makes me walk on my high places." Habakkuk 3:19

* not entirely true, I get out and about, just can't drive myself yet – plus I tire easily!
**I am currently in the middle of season 3 of Call the Midwife (I so love this series, especially as it's based upon the true-life stories of the main character), season 7 part two of Dr. Who (after a so-so season 6, I am sooooo into The Doctor once again!) I am also going through stacks of reading material – some books by indie-authors, some craft, some contemporary novels, assorted magazines and 'comfort' novels I re-read on a regular basis. Then there's the more business-like stuff I can't escape because I am supposed to remain more sedentary than active: transferring files to my new computer, reinstalling NOTION sound bundles and the seemingly never ending edits, layout issues, etc for my Swimming with Swans project.