The other day I came off of the practice stool elated.  It was one of those sessions where everything went right.  The tone from my perfectly honed
right hand nails
emitted a luscious aural tapestry of sound while working through completed scores of my own creation or arrangement.  Fluidity of movement in the left hand during execution of certain passages, coupled with the flow of interpretive playing all within acceptable tempos…this is my dance, this is my place, this is my praise to the Giver of Gifts.
I was particularly pleased to master specific measures in my classical guitar arrangement of the traditional Celtic piece,
Mo Giolla Mear.
Written during our
between homes
time, it is part of my
Swimming with Swans: the music
project.
Yes, there is an entire story behind the discovery of this piece of music and how it relates to our life on the road.  It remains scattered in the bits and nits of my mind, journals and 'little list' e-mail updates jotted down at the time.  For some reason the words do not come easily right now.  The challenge remains for me to sit down, focus and craft a vignette to include in my
Swimming with Swans: vignettes of our three year journey between homes
manuscript.
However, while immersed in my music, that challenge is mercifully set aside.
Suffice it to say, this instrumental rendition of
Mo Giolla Mear 
arranged and played by El McMeen served as the inspiration for my own composition.
And then again, the
traditional song as sung by Mary Black
is the original source material for both our arrangements.
Penned by the 18th century poet Sean Clarach MacDomhnaill, the title translates to:
My Gallant Darling.
It is in the form of a lament written in honor of Prince Charles Stewart ('Bonnie Prince Charlie'), in whom great hopes were placed to take the throne of England, thus forging an end to religious persecution. Instead, the
Jacobite rebellion
(1745) was put down and hundreds of thousands died in battle under unsurmountable odds. To add insult to injury, this revolutionary prince took flight to the continent after defeat, later dying in exile.
Chorus:
He's my champion my Gallant Darling,
He's my Caesar, a Gallant Darling,
I've found neither rest nor fortune
Since my Gallant Darling went far away.
The following excerpt is the chorus melody, the basic theme from which variations are peppered throughout much of my arrangement.
I chose this particular piece for demonstration as it is in the public domain, and not subject to copyright laws.  Further, I chose it precisely because it is not one of my original compositions*. Rather, it is an original arrangement I created for classical guitar.
I thought it might be fun to present an excerpt here for those interested in peeking over my shoulder as I use NOTION score software to carry this arrangement through to 'engraving' completion.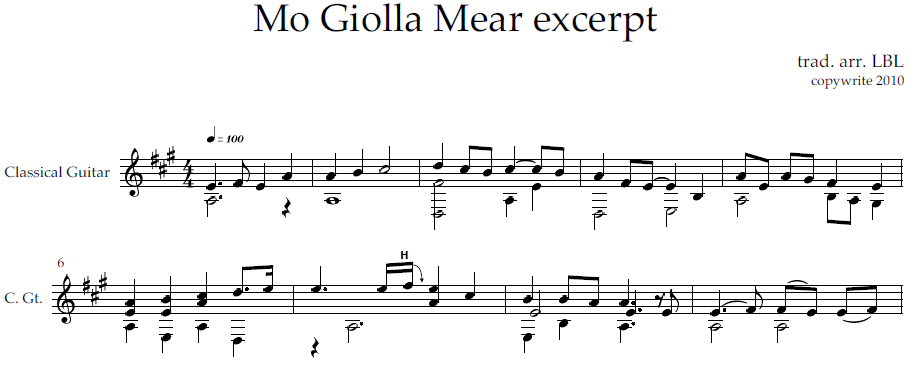 NOTION Classical Guitar computer generated sound playback of the above excerpt.
The program is limited in scope as it cannot accommodate many of the specialized needs of classical guitar notation. For example, the stems in measure 8 will not align properly.  This is due to the fact that the program does not recognize different rhythms within multiple voicings unless entered into a separate designated voice.  Also, fingerings are only allowed to be notated in certain places, often at quite a distance from the actual note. Don't worry, that's about as technical as I'll go with this.  But I wanted to mention these items as examples of the many technicalities I've had to fudge in different ways in order to get some sort of printable score on file.

And of course, the playback sounds are so-so.  But even if the sounds were perfect, nothing computer generated can add the interpretive qualities to a piece of music.
Overall, I'm pleased with the results and with my project progress.

*I've mentioned my Goat Suite in other posts, but to put examples from that up on the public internet before it is finished and registered with ASCAP would not be cool.  😎