Khaya Ronkainen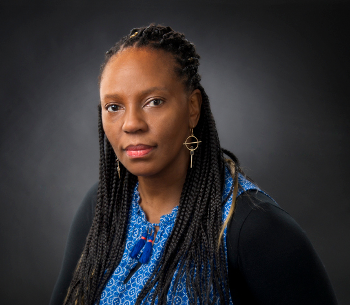 Khaya Ronkainen is a South African-Finnish writer. Her work is largely inspired by nature but often examines the duality of an immigrant life. She is the author of two poetry chapbooks, Seasons Defined and From the Depth of Darkness, published through her imprint. Some of her work has been anthologized as well as featured in various publications. She is currently at work on her third poetry collection about all things pandemic and political. To learn more or connect with her, visit her blog at www.khayaronkainen.fi
---
Here we come to the third and final part of our (he)art to (he)art interview with Khaya where she elaborates on the universal language of love (part one here, part two here).
Please read on to the end where I reveal who won the free autographed copy of her "From the Depth of Darkness".
---
LBL: How many languages do you in fact speak and/or understand?
KHAYA: Hmm…let's see! I speak and understand five of the eleven South African official languages. I also speak Finnish. I've also studied a bit of Swedish and basic Spanish. Out of all these, I only speak four fluently, and dream only in two; Xhosa and English.
LBL: There's a drastic difference between South Africa and Finland! And yet, you seem to have embraced your adopted home. I suspect that connection was due to falling in love with a Finn!? Care to elaborate on what brought you two together?
KHAYA: True, there's a drastic difference between these two countries. But there's not much difference between people; we all want the same things in life. Tell me one person, who doesn't want to be loved! I'm not talking about romantic love now but a universal love – being seen and accepted for who we are.
What brought us together? [Laughs]…Love, of course, is what usually brings people together. It's that same love that saw me leave my warm and sunny birth country to embrace long, dark and cold Nordic winters. Love transcends everything, doesn't it?
But what has kept us together and happy all these years is equally important. Our backgrounds, how we were raised, and our way of thinking are quite similar, even though we were born on the opposite sides of the world. We have so many things in common. For instance, the spirit of adventure (taking risks, being open to things we don't know and learn, embrace the unexpected) is one of the things we share.
And oh, yes! I have the best in-laws ever. They make me feel like the luckiest girl in the world! So, again, the language of love has played a huge role in embracing my adopted home and vice versa.
LBL: You make building and nurturing relationships seem so easy to do. I assume this is how you approach relationship in your writing world as well, not only with readers but fellow writers.
KHAYA: Exactly. I see the reader of my writing as someone I'm having a conversation with. That is, it's more than just saying come look, see, I wrote a book and now I'd like you to buy it. But it's an invitation to explore the world I present in the book with me and exchange thoughts, ideas or even letters. My hope is always for the reader to see themselves in the world I share or learn something new or be inspired to share their world, too.
The same applies to relationships with my fellow writers. I value genuine conversations. Perhaps, that's why blogging is my favoured way of interacting with other writers and writing communities. It allows for depth; learning more about the person behind the avatar. I like learning about how other writers and creatives, at large, navigate their worlds; the sharing of challenges and victories as our words find a home or take off to delight readers, wherever they find them. So, as it's been said over and over again, "Other writers are not your competition but a source of support." Because who else fully understands the struggles and joys of the writing life than another writer.
So, in closing, I'd like to extend my heartfelt gratitude to you for this meaningful conversation. I hope you and your readers will enjoy reading it as much as I've enjoyed answering your questions. Thank you so much. And here's to October!
LBL: …and to October babies! 🙂
---
And the winner is…L. Marie! Congrats!
Please comment below and I'll send on your autographed copy of "From the Depths of Darkness" via snail mail shortly.
Note: Fabrics in photo are traditional South African shweshwe cloth – sent to me by a dear SA quilter recently. I thought they added a little something to the display of Khaya's chapbooks.
---