First off, I'm thrilled to announce that 4 of the 6 'Final Finals' music scores mentioned in the
previous post
are 100% finished. Nestled in their respective PDFs, each are ready to be distributed in multiple media formats when the time comes. Their timing is intertwined with the release of both the vignette and recorded music parts of related content from the overall
SwS
project.
That said, the
Goat Suite (Saga)
scores are not even 'Final Finals' yet even though the music has been recorded and ready for mastering
since 2017
and the related vignettes are now nearing the formatting stage for publication. The original scores are still scruffy with scribbles from the recording sessions.
Given that
Swimming with Swans: Goat Suite (Saga)
will be the first section of the project to be released, those scores are now top priority for beginning the Final editing process. For a sense of what's involved, my
Goat Suite (Saga)
is written for 2 classical guitars, mandolin, 12-string acoustic guitar and rain stick. I have the Master Score pretty much done, but the details specific to each individual part need to be entered onto each of the extracted part scores.
Here then, is an overview of my basic music score editing process, as promised.
Enter original hand scored piece in NOTION – just the notes, no dynamics, interpretive suggestions, fingerings, etc.
Fix weird quirks that NOTION places in score regardless of how info is entered (ie-stem direction, rests, location of text info, etc.)
Print it out and play from that score to approach fingerings with a fresh eye and jot down
Add fingerings, and simple dynamics in NOTION, print out for spacing/alignments and jot down by hand extra needs for score as play through it.
Continue with edits (#2, #3 & #4) with an eye for keeping the score uncluttered and easy to read for the player yet filled with the needed information.
Add title, composer, dedication, copyright, etc. info and arrange text nicely on score, sometimes defying NOTION conventions.
If composition has more than one instrument, extract each part from Master Score for individual print out.
Print Master Score and any extracted parts scores to PDF and print out to proof.
Proof as needed.
Repeat #5, #8 and #9 until becomes a true FINAL, then print to PDF.
Using my arrangement of Mo Giolla Mear as an example, here are photo's of the process continuing from its mention in a previous post.
The following two score photos correspond to steps #1, #2 and #3 of the basic process overview: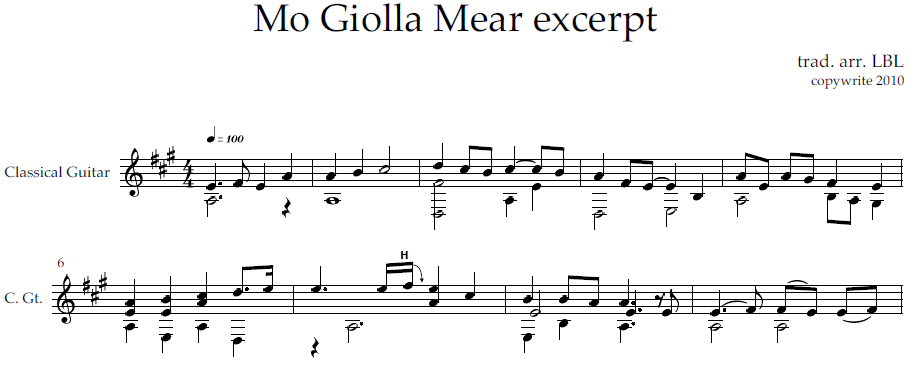 The next score excerpt photo corresponds to steps #5 & #6 – check out measure 8 for an easy to see example of a stem direction fix in addition to the overall inclusions of fingerings, dynamics, etc.
This last score excerpt photo corresponds to step #10 and is from the final PDF:
 Whew! I hope this answers some of the questions you my readers have asked about what it means when I mention 'doing score edits.' Much like literary edits, it can be tedious but the end result is the pot of gold at the base of a very beautiful rainbow.